Back to HomePage
---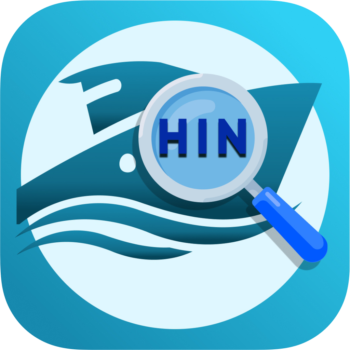 HIN Search User Guide for iOS and Android
Thank you for using HIN Search, our Hull Identification Number decoder and Boat Manufacturer lookup tool!
HIN Search has compressed and optimized the entire US Coast Guard's database of over 16,000 boat companies, and over 30,000 brands to fit on your iOS or Android device, so you can have lightning fast results wherever you are, with NO Internet access needed!
Builder data used compliments of the US Coast Guard.
What is a HIN?
The Hull Identification Number, or HIN for short, is a 12 or 15 character number that uniquely identifies the boat. All boats manufactured or imported into the US on or after November 1, 1972 should have a HIN, including fishing boats, power boats, sail boats, PWCs (i.e. "Jet Skis"), and most kayaks and canoes. A boat's HIN is different than it's State registration number, which is usually displayed on the bow of the boat. The vessel's HIN will usually be shown on state registrations, bills of sale, and any USCG documentation papers.
Some manufacturers added brand-specific information after the HIN, often separated by a hyphen. Please do not enter this data.
Encoded in the HIN is a 3 digit Manufacturer Identification Code (MIC) assigned by the US Coast Guard. This App includes a database of MIC codes and their assigned companies, so no Internet connection is needed. The data is collected and maintained by the USCG.
Where is the HIN?

On most boats, the HIN will be located on exterior of the hull on the boats upper starboard transom (upper right, back).
On vessels where placing the HIN on the transom is not possible (such as kayaks and canoes) the HIN will usually be located near the stern on the starboard side.
Decoding the HIN
HIN Search will do this for you, but if you're curious about how HINs are encoded, read on. Real HINs do not contain spaces, but we added them to the examples below to make reading them easier.
For boats built or manufactured from November, 1972 until July 31, 1984, the HIN format may look like:

Manufacturer Identification Code (MIC)
Hull or Serial Number
Certification Date (2 digit month, followed by 2 digit year)
Alternatively, some manufacturers used the following format:

Manufacturer Identification Code (MIC)
Hull or Serial Number
Model year("M") followed by a two digit year, followed by a single letter for the manufacture month. Please note that the "Model Year" changeover was assumed to have happened in August with this format, so its possible the boat was built before its model year. The month codes are as follows:

| | | | | | |
| --- | --- | --- | --- | --- | --- |
| A: | Aug | E: | Dec | I: | Apr |
| B: | Sep | F: | Jan | J: | May |
| C: | Oct | G: | Feb | K: | Jun |
| D: | Nov | H: | Mar | L: | Jul |
For boats built or manufactured August 1, 1984 or later:

Manufacturer Identification Code (MIC)
Hull or Serial Number
Manufacture Date, where the second digit is the last digit of the year, and the first is a code for the month as below:

| | | | | | |
| --- | --- | --- | --- | --- | --- |
| A: | Jan | E: | May | I: | Sep |
| B: | Feb | F: | Jun | J: | Oct |
| C: | Mar | G: | Jul | K | Nov |
| D: | Apr | H: | Aug | L: | Dec |

Model year
On some newer boats you may see a 15 digit HIN, like:

ISO Country Code of manufacture, usually followed by a dash
MIC code, and so on as above.
Validating the HIN
HIN Search will pop up a message if a HIN you enter does not follow any known format, with a hint as to what might be wrong.
For HINs which do follow known formats, HIN Search will perform a variety of checks to make sure the HIN is internally consistent. For instance, making sure the format used was one commonly used at the time, and that the model year and manufacture year are appropriate. HINs which fail the consistency check will be flagged "Suspicious", with the reason given.
If the manufacturer that HIN Search retrieves does not appear to match the boat, it's possible the HIN has been altered, misread, or perhaps not registered properly with the USCG.
HIN Search's validation and consistency checks are good tools for identifying incorrect or altered HINs, but they are not foolproof. There is no centralized database of stolen boat HINs like there is of stolen automobile VINs. If you suspect a boat may be stolen or that it's HIN has been altered you should contact local authorities.
How to Use HIN Search
HIN Search has 4 tabs along the bottom of the screen.

HIN Lookup (Tab 1)
If you have a vessel's full 12 or 15 digit HIN, you can can use this to decode the HIN to determine the boats manufacturer, serial number, and depending on the style of HIN, the boats model year, manufacture year and month. You may tap the "+" button to add it to your favorites for later review.

MIC Lookup (Tab 2)
If you only want to know a boat's manufacturer, you can enter the three digits of the boats Manufacturer Identification Code to retrieve information about the builder or importer. You may tap the "+" button to add it to your favorites for later review.

Builder Lookup (Tab 3)
If you don't know a boats HIN or MIC, you can enter the builder's or importer's name here. It's also good just for retrieving a little bit of history about any company you are curious about. The database has some interesting snippets about some of the companies.

Favorites (Tab 4)
You can review any boats or builders you marked as "Favorites" here.

Settings (Tab 5)
App Settings and Info.
Data Retrieved
The USCG data may contain some or all of the following fields. Most companies do not have all fields populated. This App will only display fields with non-empty data.
| | |
| --- | --- |
| Manufacturer Code | Manufacturer Identification Code (MIC), assigned by the USCG. |
| Serial or Hull # | The five digit serial or hull number decoded from the HIN, may include letters or numbers. Please note that you need the entire HIN to uniquely identify a boat. |
| Model Year | The model year decoded from the HIN. Please note that the Model Year generally started August 1 of the previous year for most companies. |
| Manufacture or Certificate Date | The manufacture or certification date decoded from the HIN, month and year. |
| Build Country | The build country decoded from 15 digit HINs. |
| Company | The primary company name on file. |
| Also Known As | Additional company name(s) on file, often sharing the same MIC. |
| Products | List of boat types (ie sailboats, jon boats, importer, etc.) that the company is responsible for on file. |
| Company Status | In business, Out of business, or Government organization. |
| Business Dates | The date the business started and/or ended on file. Please note that this is not always accurate, especially for older companies. |
| Parent Company | The Parent Company of the company on file. |
| Parent Company MIC | The 3-digit Parent Company MIC of the parent company on file. |
| Website | Clickable link to company website on file. |
| EMail | Clickable link to company email on file. |
| Address | The last known address of the company on file. |
| Additional Address Information | This may include alternate addresses, or factory locations on file. |
| Business Owner/Contact | The name of the last known business owner or contact on file. |
| Phone | The last known phone number of the company on file. |
| FAX | The last known FAX number of the company on file. |
| Comments | USCG comments regarding the company. Sometimes there's some interesting history in here. |
About the Data
The manufacturer data used was collected by the US Coast Guard. The data seems reasonably accurate for recent decades, but the business dates are sometimes inaccurate for older companies. The data included with this App is what the USCG had made publicly available as of this product's version release. Historically, the data changes very slowly. But we have and will continue to make periodic updates.
A Note on Model Numbers
When looking at unknown boats, figuring out their model numbers is something many of us would like to be able to do. Unfortunately, there is no way to universally determine model number based on a boat's HIN. Some manufacturers used the first few digits of the HIN Hull # to denote the boats length or model number, but many didn't. Some manufacturers added "something extra" after the HIN, but many didn't. Sometimes the only way to determine a boat's model number is to contact the manufacturer with the HIN, which can be problematic as sadly so many of them are no longer in business.
A Warning on State Issued HINs
Each state has a special MIC for issuing HINs (ie TXZ, NYZ). In the past, this was primarily used for registering homebuilt boats. However, in recent years states have been "re issuing" HINs on older boats. This is usually done in situations where the HIN is not known, lost, not issued, or originally formatted incorrectly. The last scenario for incorrectly formatted (for often seemingly trivial reasons) can be aggravating as all the useful information (manufacturer, serial number, build date, etc.) which is normally encoded in the HIN is lost. The date used in the date portion of state HINs is usually the inspection or issue date, not the actual build date.
For more information about this app or other projects, please visit as at www.HINSearchPlus.com.
We would appreciate your feedback! Please email us at info@HINSearchPlus.com if you have any complaints, suggestions, or comments.
Copyright © 2012 - Juggernaut Technology, Inc. All rights reserved.
---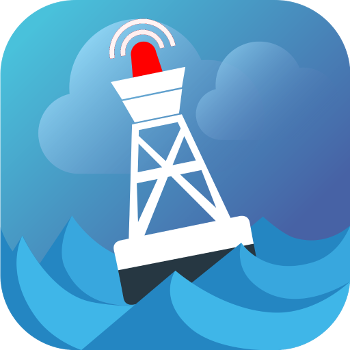 Would you like to know current and recent ocean conditions? Try NOAA Buoy Reports, our app that not only tells you current ocean buoy conditions, but past history up to 45 days!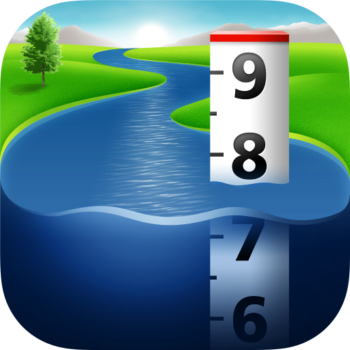 Quickly get the latest observations, recent history, and forecasts for most of the rivers, streams, and waterways that NOAA actively monitors in the USA with Rivercast. Check out our great map interface and interactive graphs!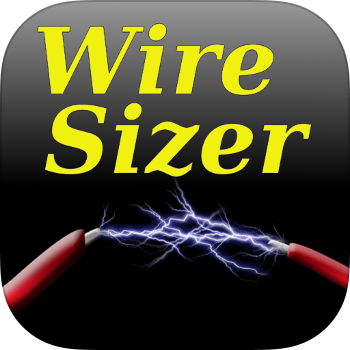 Are you wiring new systems or rewiring old on your boat, RV, or car? Try WireSizer, our ABYC conforming wire gauge and voltage drop calculator!